We believe it is just as important to know what is going ON the body as it is to be familiar with what is going into the body. Because the skin is another organ (the largest, in fact), it absorbs, processes and exposes our bloodstream to all substances that penetrate the surface. Abura chooses to avoid all ingredients that can be linked to disrupting or harming any part of the body, not even a single cell. While our products are all safe, please check your ingredients carefully for any known allergies or sensitivities.
Carrier Oils
Argan Oil (Argania spinosa)

An antioxidant, antibacterial, and anti-inflammatory, this oil reduces swelling, soothes irritated skin, nourishes the hair and scalp and has wonderful antiaging properties.

Grapeseed Oil (Vitis vinifera)

A light weight, fast penetrating, healing oil, Grapeseed is great for skin conditions such as dry, itchy skin, varicose veins, exzema and psorasis. It has mildly astringent properties and is non-greasy, making it suitable for most skin types, particularly the oilier varieties. Grapeseed is often used in hypoallergenic products as it does not tend to produce allergic reactions for those with sensitive skin.

Hemp Oil

Hemp oil is rich in Omega Acids 3, 6 and 9, making it perfect for most skin types. It is extremely moisturizing and non-comodegnic to boot, meaning it won't clog your pores in the slightest! It can even help to balance out oily skin, by hydrating and regulating the skin's oil production. One of the omega-6 fatty acids that hemp oil contains is gamma-linolenic acid (GLA), which acts as a powerful anti-inflammatory while simultaneously encouraging skin growth and cell regeneration.

Jojoba Oil (Simmondsia chinensis)

Jojoba is great for all skin and hair types as it is chemically similar to the oil produced by our own bodies, aka sebum. Non greasy and fast absorbing, Jojoba is also known for its regenerative and firming properties, making it an idea antiaging as well as anti-acne product.

Meadowfoam Seed Oil (Limnanthes alba)

Rich in antioxidants and extremely nourishing and hydrating, this oil helps fight signs of aging and has strong healing properties, as well. It is non-greasy and deeply penetrating, making this oil ideal for a variety of skin types, including those with maturing skin that may still suffer from hormonal break outs, or combination skin.

Sweet Almond Oil (Prunus amygdalus)

This oil is high in vitamins A, B and E. A slightly heavier oil than the others, this oil is especially great for mature, dry, chapped or inflamed skin.
ESSENTIAL OILS
Blue Tansy (Tanacetum annuum)

Also known as Morroccan Chammomile, Possesses powerful antihistamine, antimicrobial and anti-inflammatory properties and is great for healing the skin. Due to its chamazulene content, Blue Tansy Essential Oil is very dark blue in color. Blue Tansy also has a very calming and soothing aromatherapeutic value.

Chamomile, Roman (Chamaemelum nobile)

This essential oil has applications for almost all skin ailments. It is anti-inflammatory, antimicrobial, promotes the formation of scar tissue (healing) and can be used to treat skin injuries and disorders from blisters and boils to dermatitis or exzema. Additionally, this oil helps soothe tight, dry and itchy skin, bringing much needed relief to many pesky skin conditons.

Frankincense (Boswellia carteri)

Helps contract and tone tissue, regenerate aging skin, prevents wrinkles and smoothes already existing fine lines and wrinkles. Additionally, Frankincense oil helps destroy infection causing bacteria and can aid in balancing oily skin.

Ginger (Zingiber officinale)

Has warming and pain relieving properties and helps increase circulation, making it a wonderful body oil.

Helichrysum

Promotes cell growth, anti-inflammatory, antiallergenic and antiseptic, making this oil idea in almost all skincare preparations. Not only will this oil help promote a more youthful and glowing complexion but it is also great for curative blends when treating skin conditions such as dermatitis, exzema and psorasis.

Lavender

One of the most widely used and loved essential oils, Lavender is known for its antimicrobial, anti-inflammatory and soothing properties. It helps stimulate the growth of new cells, prevents scarring and minimizes pain and itchiness. This oil in gentle enough to be used by itself but we recommend using all essential oils diluted with some kind of carrier oil for safest application.

Lemon

Smoothes the skin and contracts and tones tissue. Can be used to treat dull, oily or hyperpigmented skin through its mild bleaching action. Additionally, it contains vitamin C and is extremely antibacterial, making it a wonderful treatment for acne prone skin when used in small concentrations.

Neroli

Neroli has a strong reputation for regenerating skin cells and maintaining or restoring elasticity to the skin. Ideal for mature skin, this oil helps prevent wrinkles, remove scarring and stretch marks and lessen thread veins. The aroma of Neroli is uplifting, eases depression, can help treat anxiety and manage turbulent emotions.

Rose (Rosa damascena)

Great for all skin types, particularly dry, mature and sensitive skin, this oil helps soothe inflammation and constricts capillaries in cases such as Rosacea or appearance of thread veins. The intense aroma of Rose Essential oil is known for its uplifting, anti-depressant like qualities.

Sandalwood

Great oil for dry or chapped skin and hair. It's soothing aroma is comforting and warm, helping to relieve nervous tension, depressive moods and encourage restful sleep.

Tea Tree

A magnificent oil for treating fungal infections, stimulating the immune system and inhibit the growth of viruses. It is antibacterial as well, and is often used in the treatment of acne.

Vetiver

Sometimes referred to as "the oil of tranquility", Vetiver is a very grounding and soothing oil, helping to ease stress and calm the nerves. Additionally, vetiver possesses antiseptic qualities that are beneficial in healing wounds and acne.
OTHER NATURAL INGREDIENTS
Aloe Vera

Amazing healing powers that help relieve acne, soothe burns, moisturizing and anti-inflammatory.

Dead Sea Salt

Highest mineral content of all the salts, making it ideal in bath salt preparations.

Honey (Raw)

Loaded with antioxidants, antibacterial and antifungal agents, and natural enzymes, Honey is a natural humectant that is beneficial when used alone or infused as a facial cleanser, healing aid or hair mask.

Kaolin Clay

A very gentle yet absorbent clay, idea for cleansers and masks.

Bentonite Clay

A more absorbent clay that can be used in cleansers and masks to treat oilier skin types and acne.

Witch Hazel

Known for its astringent, antiseptic, antimicrobial, anti-inflammatory properties, this ingredient is often used in toners for oily or break out prone skin.

Non-nano Zinc Oxide

A natural mineral sunscreen ingredient, protective against UVA and UVB rays.

Radish Root Ferment/Lactobacillus Ferment

A natural preservative active against most bacteria, yeast, and fungi.

Pink Himalayan Sea Salt

One of the purest salts found on the planet, helps improve skin conditions, remineralizes the skin and can relax muscles.

Epsom Salts

draws toxins from the body, sedates the nervous system, reduces swelling, relaxes muscles, is a natural emollient, exfoliator, and much more.

Vitamin E (tocopherol)

A natural antioxidant that is great for preserving cosmetic formulations and preventing oils from going rancid.

Vegetable Glycerin

Moisturizing, attracts water to the skin and helps to retain water in the skin.

Licorice Root Extract

Helps brighten dull skin and to reduce hyper-pigmentation.

White Willow Bark Extract

Provides gentle exfoliation, revealing brighter skin and clearer pores. Minimizes signs of aging such as fine lines and hyper-pigmentation. May also help reduce pore size, excess oil and treats and prevents acne.

Lactic Acid

A wonderful anti-aging and anti-acne exfoliant, with a reputation for being gentler and less irritating than glycolic acid, it also hydrates, increases natural barrier lipids in the outer layer of skin, and lightens and brightens the look of skin for those with discoloration. 

Vitamin C

The antioxidant properties of vitamin C (ascorbic acid) and its role in collagen synthesis make vitamin C a vital molecule for skin health. Topical Vitamin C has beneficial effects on skin cells, and some studies have shown that vitamin C may help prevent and treat ultraviolet (UV)-induced photodamage (aka hyper-pigmentation).

Kojic Acid

A natural brightening agent used to help improve dull or hyper-pigmented skin.

Hyaluronic Acid

A plant derived gentle acid primarily known for its ability to absorb up to 1000 times its weight in water and flooding the skin with moisture when applied topically.

Rose Hydrosol

Rose Water with benefits ranging from anti-inflammatory, astringent, toning and hydrating.

Lavender Hydrosol

Lavender Water with benefits ranging from soothing, anti-inflammatory, antimicrobial.

Elderberry Extract

It is an efficacious, multi-functional natural alternative to the traditionally used preservatives in cosmetics and personal care applications. Antioxidants, like those found in elderberries, are excellent additions to skin care regimens as they provide protection from free radicals that contribute to cell damage, aging, and wrinkle formation. Bioflavonoids, which can also be found in elderberries, exhibit astringent properties that help tighten the skin and provide additional anti-wrinkle benefits. This unique super fruit is also an excellent source of undecylenic acid, an organic fatty acid that provides broad antimicrobial benefits, but is especially effective against fungal microorganisms.

Lactobacillus Ferment

A powerful probiotic-based ingredient created by the fermentation of Lactobacillus. It also produces novel antimicrobial peptides, also known as bacteriocins, providing broad spectrum antimicrobial protection.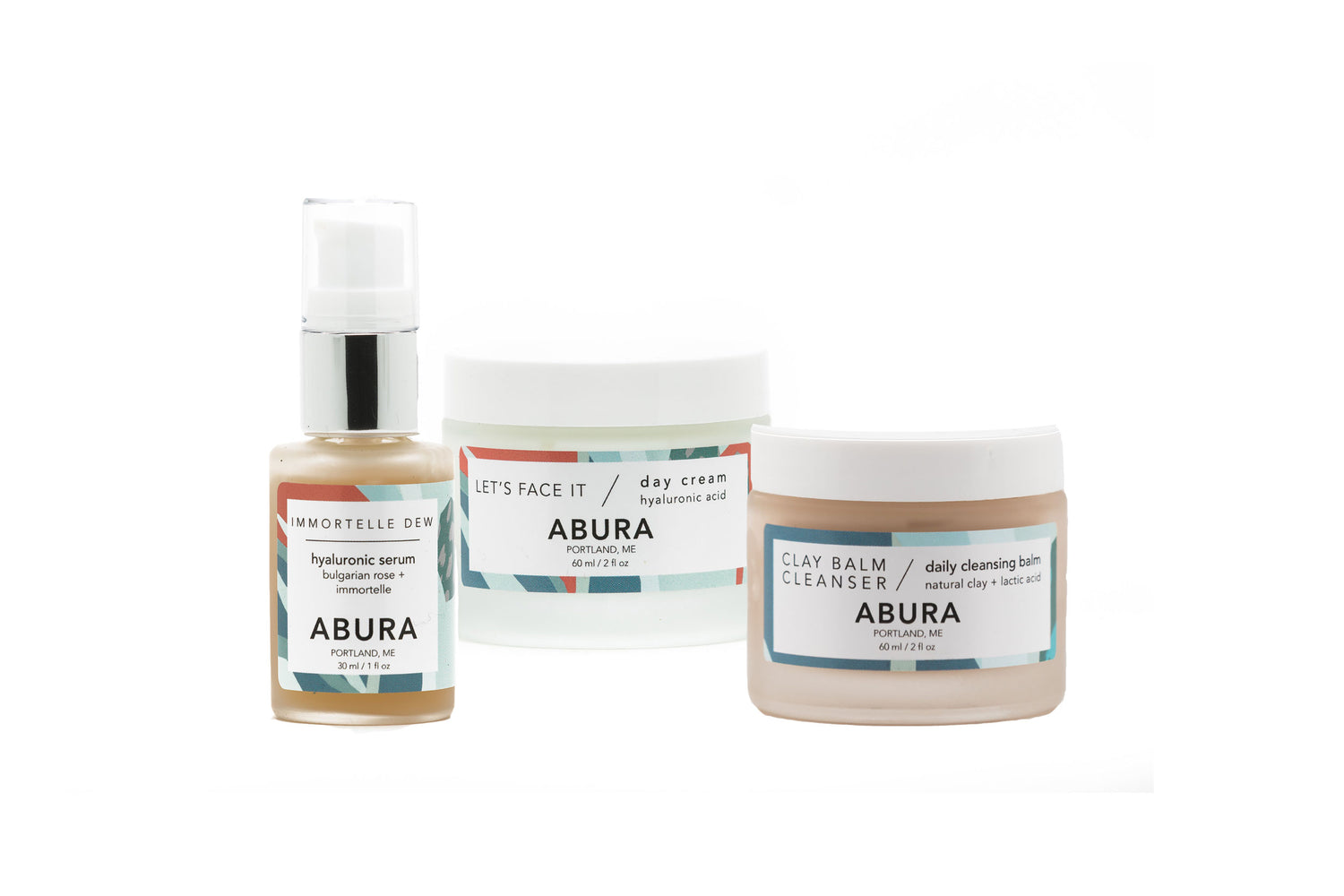 Quick view

Immortelle Dew

Regular price

Sale price

$50.00
Quick view

Clay Balm Cleanser

Regular price

$20.00 $40.00

Regular price

Sale price

$20.00 $40.00
Quick view

Let's Face It

Regular price

$27.00 $50.00

Regular price

Sale price

$27.00 $50.00
Bundle & Save
The Abura Starter Set